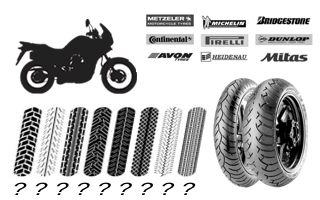 As informações desta página é somente para sua informação. Você descarregar totalmente myNETmoto de qualquer responsabilidade em relação a, ou como consequência de, reivindicações de si mesmos e / ou qualquer terceiro por eventuais danos subsequentes à montagem de pneus não permitidos.
DUNLOP ROADSMART II


Dunlop's new RoadSmart II provides a new benchmark of balanced all-round excellence for demanding riders. A premium sport touring tyre, combining the all-round attributes required, together with improved mileage. Providing the freedom for adve [...]
(incl. IVA. sem. expedição)
BRIDGESTONE BT 45


This all-round sports bias tyre is for imported and re-imported bikes and offers the same basic performance as the BT-45. Ideal for the rider who seeks overall high-speed performance.
BRIDGESTONE TRAIL WING


Trail Wing TW301 and TW302 are on-off type tires with primal emphasis on on-road performance, making the tires ideal for the customers who ride off-road motorcycles mainly in metropolitan (city) area.. Considerable attention has been paid to the bala [...]
(incl. IVA. sem. expedição)